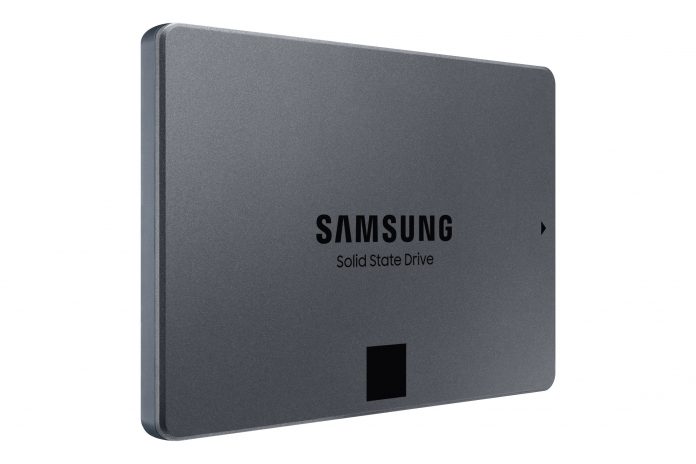 Samsung is finally introducing its new SSDs, and we are literally blown away considering the extra low price for the enormous storage capacity offered.
The drive will be sold in three different versions:
Base – 1TB, just for 149.99$
Middle – 2TB, the price is still unknown
High capacity – 4TB, price unknown
Featuring sequential read and write speeds of up to 550 megabytes per second (MB/s) and 520 MB/s, respectively, the 860 QVO achieves the same level of performance as today's 3-bit MLC SSD, thanks to Samsung's latest 4-bit V-NAND and the proven MJX controller. The drive is also integrated with Intelligent TurboWrite technology, which helps to accelerate speeds while maintaining high performance for longer periods of time.
Lower price = lower quality, unfortunately
Unfortunately, if you are thinking that for that price, there must be something cheaper inside the disk or that the construction quality has to be less meticulous… you are right. Each SSD belonging to the 860 QVO series it's built with cheaper memories. This doesn't necessarily mean that it's not a good deal, though, it's been demonstrated that even if the transfer rate should reach up to 550/520 MB/s (sequential read and write speed) – well, it's highly probable that the effective read/write speed will be much slower. How much? Those performances could degrade at the point of being comparable to the speed of a standard hard drive (120MB/s).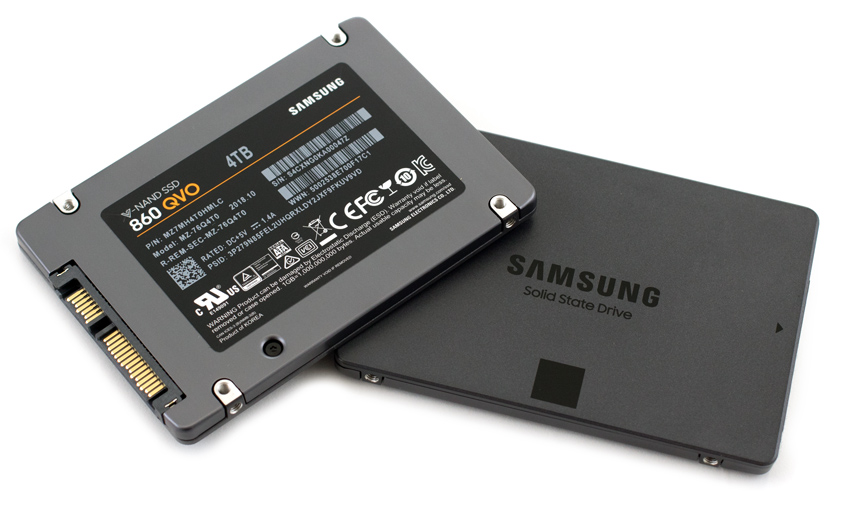 Category
Samsung 860 QVO
Interface
SATA 6 Gbps
Form Factor
2.5-inch
Storage Memory
Samsung V-NAND 4-bit MLC
Controller
Samsung MJX Controller
DRAM
4GB LPDDR4 for 4TB
2GB LPDDR4 for 2TB
1GB LPDDR4 for 1TB
Capacity
4TB, 2TB, 1TB[1]
Sequential Read/Write Speed
Up to 550/520 MB/s
Random Read/Write Speed
Up to 97K/89K IOPS
Management Software
Magician Software for SSD management
Total Bytes Written
1,440TB (4TB)
720TB (2TB)
360TB (1TB)
Warranty
Three Year Limited Warranty
Everything comes at a price, but it's just okay for the "average user"
I won't focus more on the characteristics of these SSDs, but at the and of the day, should you avoid buying a slower but bigger memory?
We think it might make sense. But it depends on the kind of usage you'll do of the SSD. If you plan to use your solid state memory for intensive I/O read and writes, a flash memory should be discouraged. At least, use a different SSD, the Samsung 860 Pro is surely better for this kind of tasks.
Keep in mind that the warranty is limited, you won't have 5 years, and the total bytes written per year are sensibly lower than higher quality SSDs.
Moreover, you should consider the drop in performance due to the usage of a lower quality memory that uses a special kind of buffering trying to avoid that kind of slowdowns.
The 860 QVO will be available on December 16, 2018
Source: Samsung Newsroom