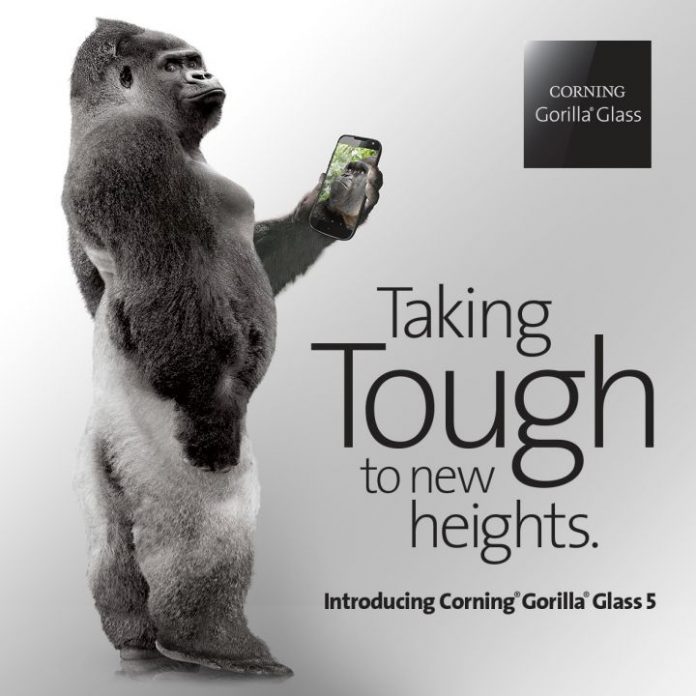 Corning is one of the bigger company that gained an incredible success over the time of tech evolution with the creation of Gorilla Glass.
This is a sort of "hidden manufacturer" that may don't sound familiar to many users of mobile smartphones and devices.
But today the next generation of Gorilla Glass 5 is out! Now all the top line devices can rely on a stronger Glass, more resistant than ever.
Gorilla Glass 5 bring mobile life to another level introducing an enhanced mobility, resistance and performances for all type of mobile devices. Now the resistance is guaranted up to 1.6 meters in height, so you'll not have to worry if your phone drops from your hand (unless you drop your phone from an height taller than 1.6 meters).
"With each successive generation of Corning Gorilla Glass, we have taken cover glass technology to new levels. Gorilla Glass 5 is no exception, extending Corning's advantage in drop performance over competitive glasses," said John Bayne, vice president and general manager, Corning Gorilla Glass. "With many real-world drops occurring from between waist and shoulder height, we knew improving drop performance would be an important and necessary advancement."

For nearly 10 years, Gorilla Glass has been the world's leading cover glass solution in the consumer electronics market. Today, Gorilla Glass is the cover glass of choice for device manufacturers around the globe with over 40 major brands designing Gorilla Glass into more than 1,800 product models totaling 4.5 billion devices since its launch in 2007.
Availability / Corning Gorilla Glass 5:
Corning has not yet confirmed the availability of the Corning Gorilla Glass 5 for mobile manufacturers, we believe that probably the next level glass is already available right now with special contracts with companies.
Source: Corning