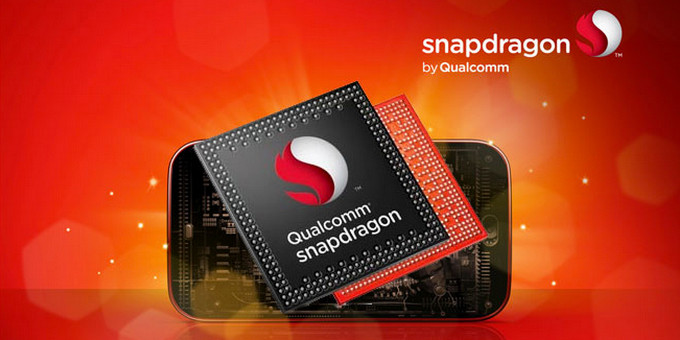 Qualcomm has finally announced a new processor for mobile devices, called Snapdragon 820. The new chip will power up new flagship smartphones for the new year and probably it will solve Snapdragon 810's problems such as throttling for overheating that has limited the performance of one of the best CPUs presented by Qualcomm.
The Snapdragon 820 is built with a new technology called Kryo that essentially will enhance cores' performance and reduce the energy consumption (one of the problem of Snapragon 810), instead of having an Eight core processor architecture, the new processor will use only four cores (Quad Core) that are optimized to guarantee much better performance than the previous generation. The cores are clocked at 2.2 Ghz and according to Qualcomm this Cpu will double the power of Snapdragon 810.
Qualcomm decided to use the new his new DSP project that consist of an improved imaging accellerated system that optimize all the component. Finally, the processor build process uses the new 14nm FinFet technology that improves the power system of the new processor.
In terms of graphics the Qualcomm Snapdragon 820 uses an Adreno 530 GPU that comes with a 40% improvement to the graphics performance if compared with the older Adreno 430.
Connectivity is another strenght point of this Cpu, because it comes with an enhanced modem (X12) that supports Cat.12 LTE Downloads with a transfer bandwidth aroung 600Mbs in addition to a Cat.13 Upload speed. The processor supports lot of connection types: DB-DC-HSDPA, DC-HSUPA, TD-SCDMA, EV-DO and CDMA 1x, FDD and TDD for LTE, as well as GSM/EDGE.
In addition, S820 supports an LTE/Wi-Fi link aggregation to speed up the connection because it support the new LTE-U, LTE Broadcast, VoLTE, WiFi calling and Dual-sim possibility. WiFi Modem now supports 2 x 2 MU-MIMO connections, the fastest connection available now.
LTE/Wi-Fi link aggregation is in too, as is support for LTE-U, LTE Broadcast, dual-SIM, VoLTE, and Wi-Fi calling.
The new GPU is very powerful and now the processor is capable to control 4k displays, 28Megapixels cameras with the new 14 bit dual ISP. S820 will support the new UFS 2.0 standards or even the older eMMC 5.1 memory along with LPDDR4 Ram clocked at a maxium frequency of 1866Mhz dual channel, NFC, USB 3.0 standards and the Quick Charge 3.0 system that is capable to charge the phones four times faster than the conventional charging and 38% faster than the previous version of Quick Charge 2.0.
Qualcomm has done a great work with this processor, we hope to see if this can effectively improve the performance of the previous version, but for now it seems to be a great component for future smartphones
SPECS And VIDEO:
CPU

Up to 2.2 GHz quad-core (Quad-core custom 64-bit Qualcomm® Kryo™)

GPU

Qualcomm® Adreno™ 530 GPU

Up to OpenGL ES 3.1+

DSP

Qualcomm® Hexagon™ 680 DSP

Camera

Up to 28 MP

Qualcomm® Spectra™ Image Sensor Processor (14-bit dual-ISP)

Video

Up to 4K Ultra HD capture and playback

H.264 (AVC)

H.265 (HEVC)

Display

4K Ultra HD on-device

4K Ultra HD output

1080p and 4K external display support

Charging

Qualcomm® Quick Charge™ 3.0

LTE Connectivity

Snapdragon X12 LTE with Global Mode

LTE Cat 12/13 (up to 600 Mbps DL 150 Mbps UL)

Up to 600 Mbps, 256-QAM DL

Up to 150 Mbps UL, 64-QAM UL

Carrier Aggregation

3x20MHz DL, 2X20MHz UL

Global Mode

LTE FDD and TDD
WCDMA (DB-DC-HSDPA, DC-HSUPA)
TD-SCDMA
EV-DO and CDMA 1x
GSM/EDGE

Additional features include:

LTE/Wi-FI link aggregation
LTE-U
LTE Broadcast
LTE Dual SIM, Dual Active (DSDA)
HD Voice over 3G and VoLTE
Wi-Fi calling with LTE call continuity

Wi-Fi

Qualcomm® VIVE™ 802.11ac

2×2 MU-MIMO

Tri-band Wi-Fi

RF

Qualcomm® RF360™ front end solution

Location

Qualcomm® IZat™ Gen8C

Security

Qualcomm® Haven™ Security Suite:

Qualcomm® SecureMSM™ hardware and software
Snapdragon StudioAccess™ Content Protection
Qualcomm® SafeSwitch™ theft prevention solution
Qualcomm® Snapdragon Sense™ ID 3D fingerprint technology
Qualcomm® Snapdragon™ Smart Protect

Storage

UFS 2.0

eMMC 5.1

SD 3.0 (UHS-I)

Memory

LPDDR4 1866MHz dual-channel

Process Technology

14 nm

USB

USB 3.0/2.0

Bluetooth

Bluetooth 4.1

NFC

Supported

Part Number

8996