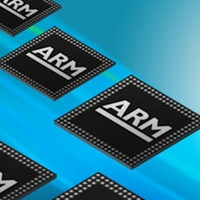 Arm has just announced the new Mali G71 GPU which is an optimized revision of the previous Mali T880 already present into the Samsung Galaxy S7.
With its debut to the market the ARM team declared that this new generation of graphic processor will improve UHD content thanks to the Bifrost architecture.
This specific architecture represent a valid upgrade if compared with others ARM's GPUs.
ARM's report:
The ARM® Mali™-G71 is the latest offering in the High Performance line of ARM's Mali family of GPUs, the number one shipping GPUs in the world. Built upon the brand new Bifrost architecture, Mali-G71 represents a whole new level of high-end mobile graphics capabilities whilst still making huge advancements in efficiency. The Mali family enables stunning visuals for UHD content and the superior power and scalability of the Mali-G71 makes it the perfect GPU for next generation, high end use cases like premium gaming and mobile VR.As the complexity of 3D mobile graphics content continues to increase, so too must the computational capabilities of high-end GPUs. This is essential to deliver the latest games and applications to end-users within the power and thermal envelope of mobile devices. The Mali-G71 GPU was developed expressly to meet the needs of new industry advancements such as the Vulkan cross-platform graphics API from Khronos as well as the ever growing demand for a smooth mobile VR experience. The Mali-G71 GPU is scalable from one to thirty two cores and delivers up to 20% better energy efficiency, 40% better performance density and 20% external memory bandwidth saving compared to Mali-T880 under similar conditions.
---
Samsung Galaxy S8
And what about the Samsung Galaxy S8? Could it use this GPU to enhance 4K contents and provide a better VR experience?
Yes, it could. Samsung has always used ARM's GPU on its flagship devices and maybe the new Mali can improve performances even keeping the power usage controlled since it << delivers up to 20% better energy efficiency >> and since it's able to scale the number of cores could really become a perfect option for Samsung.
Remember that these are only rumors but imagine to be able to always get the best of performances from every game you play, even on your VR headset.